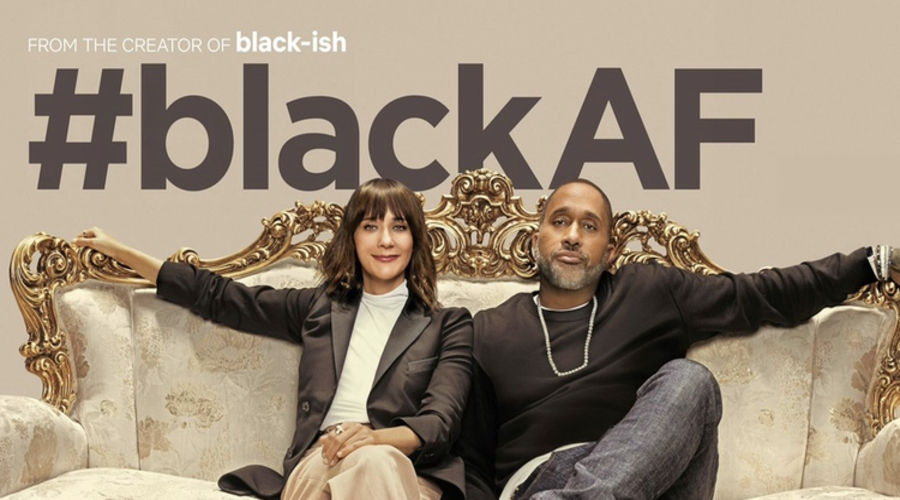 I didn't hate it….
Tl;DR: Kenya Barris built his empire making Black shows for white audiences. #blackAF is Black-ish 2.0. And Kenya Barris is hard, if not impossible, to love in this. I almost quit early but by episode 5 the show found its footing and by episode 7 (there are only 8) it finally started to get funny and differentiate itself as its own thing. I would be interested in a season 2.
*SPOILERS ALERT*
Kenya Barris is a Black TV writer, producer, and show-runner. He's been in the game for 20 years, co-creating America's Next Top Model with Tyra Banks, wrote for Black TV shows The Game and Soul Food, wrote the smash hit Girls' Trip, and created four shows based on his immediate family: Black-ish, Grown-ish, Mixed-ish, and now….#blackAF, which just premiered on Netflix yesterday.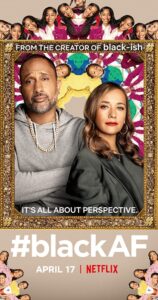 Barris is 'goals' when it comes to success as a Black writer in this industry. An Inglewood native, and graduate of Clark Atlanta University, a HBCU, Kenya Barris pulls from his life to create his TV empire. In 2018, Barris signed a 3-year overall deal with Netflix ,worth $100 million, to write and produce series for the platform. However, Barris's shows typically pull from his "new-money" life, the life that is more relatable for white audiences to connect to. Kenya does not shy away from his need of acceptance from the white world which is why Andre' Johnson, the character on Black-ish based on Kenya, and the Kenya in #BlackAF, are both so pressed to prove their worth, through their successes and materialism, to gain respect from the white world. "See, we are equal now because I can buy a car off the lot, cash, just like you". What I would love to see is Kenya attempt a project about his life prior to the money and fame. He is from 1980s Inglewood and attended a HBCU in Atlanta during the Freaknik era. Those are stories that can resonate with Black audiences because it is for Black audiences. And maybe they are coming so we shall see.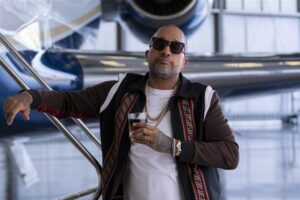 Each episode of #blackAF is because of slavery. No literally, 'because of slavery' is in the title of all eight episodes. And it is because of slavery, or arrested development resulting from slavery, that is driving Barris. The underline messaging in Barris's shows are that Black people have to work hard in order to achieve the same success as whites and should be able to enjoy the fruits of our labors. Unfortunately this means that one would have to believe that the bar set by whites, the arbitrary bar set by colonialism and…because of slavery, is what it means to "make it". As a Black person, I do not want to be equal to white people. I don't aspire to be them. Look at their history and how they got to attain those levels of success.  No, I want to be better than white people. Thanks to conditioning (because of slavery), that feeling is void from any of Kenya's projects. Which leads me to his latest project: #blackAF
Observations:
#blackAF is not for Black people, though some Black people may be entertained by it like they would a Tyler Perry movie (more on that later). #blackAF, similar to Black-ish, is a tutorial for white people to navigate through Blackness. You can tell by the way the protagonist speaks to its audience. The series is shot documentary style, led by Barris's second oldest daughter Drea (played by the beautiful and talented Iman Benson), who is making the documentary to get into NYU's film school. Drea speaks to the camera, or provides voiceovers (similar to Black-ish and Mixed-ish and you get the point) where she says things like "You may not know this but Black people have/are/do/experience…..xyz" which is typically followed by a Black history lesson (*whispers in redundant* like Black-ish and Mixed-ish and….). It is clear that Black audiences are secondary in these observations. The first two episodes about 'white gaze' was clearly for white people, especially liberal white people who don't know they harbor subconscious racists tendencies and/or beliefs. And it is not a bad thing to make Black shows for white audiences to learn about the nuances of Blackness. White people will listen to non-threatening, well-to-do Black people, that don't make them feel bad for being white, even if the joke is on them and it actually may enlighten their white counterparts about the humanity of Black people, especially if their own two eyes fail to do so. However content and context is key and it is clear Barris is still using training wheels in his approach to dealing with the micro-aggressions of being Black in white America.


j

It took a WHILE to get into this show. I almost quit after the first episode. I didn't because I wanted to give it the benefit of the doubt because it is a Black show. I watched Cheer. I watched Tiger King. I watched Love is Blind (every episode) and that show was terrible. So let me keep that same energy. The first four episodes of #blackAF are spent with me processing how Barris was able to make Black-ish the second time, except on steroids. But it was laborious and unfunny. It felt stale because I mean…it was a legit carbon copy of Black-ish which makes sense because that show is also based on Barris's life. #blackAF also made me appreciate Anthony Anderson even more. Barris is insufferable. And his voice is fleeting. It is so easy to hate him, which is intentional, so for that he did a job well down.


j

j

The show was originally titled Black Excellence, but changed to #BlackAF, which to me was a mistake. His show Black-ish, is about a successful Black man married to a successful biracial wife who have a shitload of kids, navigating their blackness in white and black spaces. #blackAF is about a VERY successful Black man married to a successful biracial wife who have a shitload of kids, navigating their WEALTH and blackness in white and black spaces. Ideally, this is what #BlackExcellence looks like so why not claim it?
j

Speaking of Blackness, Rashida Jones, you know Quincy Jones's daughter who stars at the biracial Black mom Joya aka Jo (rhymes with Bow because its FUCKING BLACK-ISH 2.0) was trending because your cousins thought it was a good time to play "Is she Black enough". One side didn't know she was Black because they don't feel like she claims it enough and the other side think she isn't Black enough. I swear you Nakers get on my nerves with this shit and I refuse to give that level of ignorance within our own communities any additional energy right now. There are a lot of things to not like about #blackAF. Rashida Jones not being Black enough to play the role of a biracial Black woman isn't one of them. Also, why and when did folks start hating Rashida Jones so much? Seriously asking. I am only familiar with her from The Office, oh and being Quincy Jones's fucking daughter! Y'all get on my nerves…I swear.


j

I would have loved to see comedian Chris Spencer play the role of Kenya in #blackAF. Every time Kenya spoke, I wished it was Spencer. Spencer has this likable asshole quality to him that Kenya is lacking which is probably intentional. Also, Chris Spencer is hilarious. However, if Spencer, or any other person, played Barris then we would probably end up with a third iteration of a show based on Barris's life but this time he's a billionaire that lives on another planet trying to explain what being Black and successful is to aliens.


j

Kenya Barris is self-aware that he really cares about what white people think. He craves their validation…because of slavery. I don't excuse it but appreciate him acknowledging the elephant in the room.


j

Episode 5 was the turning point for me. It didn't start getting funny yet but this episode is when it started to feel more genuine. It still felt like Black-ish but not as much. It was also when I finally let go that this was not going to be as funny as Black-ish and I had to accept it for what it is…a comedy-ish.


j

I am about to cover Episode 5 a lot in these next few points because it is layered.


j

Kenya Barris has a nasty habit of unfairly stereotyping his own people. In episode 5, Kenya's show wife Jo (played by Rashida Jones who is also a producer on the show), wants Dre', I mean Kenya, to invite his Black side of the family to the house for a real "Black" barbecue so that their kids can gain more exposure to authentic Black culture (and maybe learn how to dance). In preparation for this influx of Blackness, Barris and family hide their valuables because they don't want their family to steal from them…because those real negros are thieves, right? His daughter Drea talks about Inglewood like it's the Narnia of Negroes. Like Kenya, you're from Inglewood. You're not a nigga. Your dad on the show wasn't a nigga. So why nigga-fy the rest of the family? Because white people. If you do not nigga-fy the family then how will white people distinguish between the negroes who made it and the negroes who didn't? Which is the whole point and driver of Dre', I mean Kenya. "See, we aren't like those other Blacks. Hell, I don't even like those other Blacks". When are we going to stop doing that to ourselves. Black people are a colorful, beautiful, and expressive people. Note that without caricaturing us. We are finally in control of our own stories so lets get rid of the stale troupes .


j

Tyler Perry makes a cameo in episode 5 which is about Barris seeing a Black film, which he hates but Black audiences love, and is supposed to moderate a panel discussion on the film with its director. I felt like Barris did watching #BlackAF as he did watching the movie. I felt like I was watching something I hated that everyone would probably love (which was probably intentional as well). Essentially the episode was about there being a "Black Wave" aka (Blackness is what is in at the moment) being propelled by whites embracing (see: capitalizing on) Blackness but also by Blacks finding a space to tell our stories and how to constructively critique Black creatives without it shitting on Black creatives as a whole considering that this 'Black Wave" may not last forever. Black people are afraid to criticize our work because we don't know when we will get another shot like this and white people are afraid to criticize our work because they don't want to be seen as speaking negatively about Black projects. This fear removes a level of honesty that greatly impacts the quality of our work as a whole. It is something I addressed here about the movie Harriet and how we don't always have to like All-Black-Everything if it is not good. Which brings me to Tyler Perry. Kenya meets with Tyler to get his insight on how Perry ignores the naysayers of his projects. Tyler dropped a few gems (and a lot of curse words. I don't think Ive ever heard Tyler Perry curse before.)  in that he ignores the critics and makes the stories his people want to hear which is why he is so successful. Unfortunately Tyler needed to be more specific. Tyler tells stories for a specific niche of Black people, not Black people collectively. That distinction matters and also highlights the episodes intent which is that we are still unable to openly critique our work in a constructive way. Which leads to the next point about Episode 5…
Episode 5 also has cameos by the new wave of Black Hollywood elite: Writer/Actress/Creator Issa Rae, Writer/Producer/Director Ava Duvernay, Producer Will Packer, Director/Producer/Writer Tim Story, and Writer/Creator/Producer Lena Waithe. I will let you see it for yourself but Lena Waithe in this episode, and this entire episode as a whole, is concrete proof as to why Queen and Slim was not a good movie. It feels so good to say that publicly. QUEEN AND SLIM WAS NOT A GOOD MOVIE AND NO ONE IS BEING HONEST ABOUT IT!!!!!!!


j

Because the show is shot like a documentary, there are confessionals of the family subjects. Some of them are individual and some are together. The progression of the confessionals is where the heart of the show is. The one time Barris was actually redeeming was during his confessional, discussing his wife Jo having preeclampsia during her 6th  pregnancy and them almost losing the baby (a storyline from Black-ish and what I assume is his real life) and Jo almost dying. It was genuine and raw. You could hear the concern and care in his voice. There was another confessional with Jo and the two eldest daughters talking about Jo going back to work and it felt honest and not forced. It took 5-6 episodes to get there but it was welcoming when it finally did.


j

Were Rashida and Kenya not allowed to show affection to each other? I could count only two times in the whole season that they kissed. It was kind of weird. There was lots of this though:

j

In episode 7, there was a much needed conversation, brief but necessary, about women dating men who are openly bisexual. We have to break that stigma and hopefully these men will be able to live open lives and we can finally dead this DL culture.


j

Kenya and Jo are TERRIBLE parents. Both of em. Just terrible! Relatable in their terribleness but still #TerribleAF.


j

Through all the criticism, it is nice to see Black people employed in front of and behind the camera. I just wish that we can tell more of our stories that are not designed to appease white audiences.


j

Episodes 7 and 8 is when it starts to get funny. Barris goes in about white people and their relationship with the Sun and I promise you I lost it. It was the funniest and most spot on moments of the entire season.


j

#blackAF is Black lifestyle porn. It is not often we see Uber-rich Black people's lives represented on TV who are not actors or athletes. So while I would prefer something more relatable, it is fun to escape into their reality that is honestly completely removed from Blackness, minus the fact they are actually Black


j

By the end of #blackAF season 1, I realized I didn't hate it, was glad I watched it, and would be interested if there is a season 2.
Watch #BlackAF now on Netflix.
j