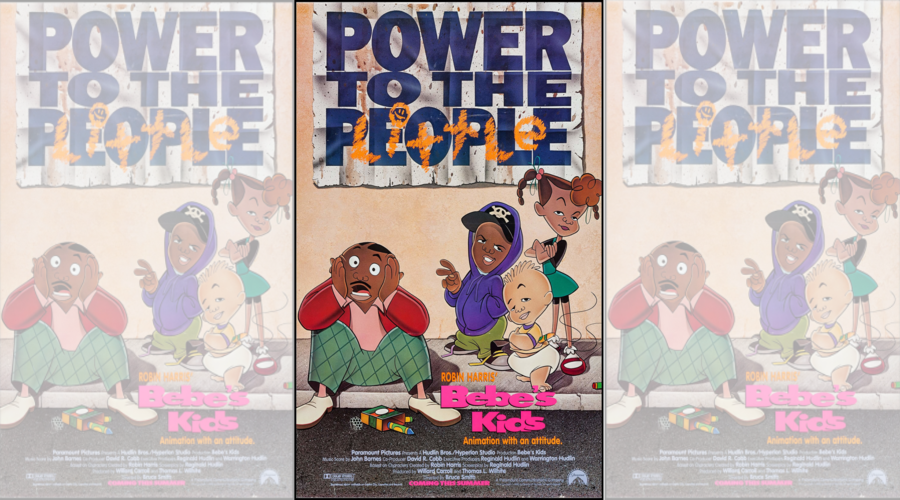 Can y'all believe the 1990s were 30 years ago? We are closer to 2040 than we are to the 90s. What the entire fuck.
The 1990s operated in a sacred space when it comes to Black culture. So many styles, ranging from cinema to clothing, were birthed during this 10 year span, influencing popular culture in a way that is still felt now.
So today's Black History post is dedicated to Black cult classic movies of the 90s. And no, this isn't a post for the low-hanging fruit. You will not find Boomerang, Friday, Dead Presidents, Menace II Society, Set It Off, and the likes.  No, this post is dedicated to the crate-diggers. Those deep-cut, sometimes overlooked, Black movies within the echelon of Black movie nostalgia.
So without further ado (in no particular order)…
Fear of a Black Hat (FOABH) is a mockumentary film about a group of fake gangsta rappers. I know the premise sounds familiar because it came out the same year as the more better known mockmentary film about fake gangsta rappers called CB4. What many don't know is that FOABH was released first. The movie was initially released in January of 1993 at Sundance where it received rave reviews. However, CB4 was also slated to be released that same year and had a bigger budget and a bigger star, Chris Rock, who was riding high on his  SNL fame. This put FOABH in jeopardy of being released, especially because CB4 was considered a flop. FOABH was given a June 1994 release date. In all honesty, CB4 is the funnier movie but culturally FOABH deserves some respect on it name. So does its writer/director Rusty Cundieff who is the name you didn't know who is behind some of your faves. More on that later.
To this day, if I am ever sad, I think about Darryl (Blankman) crying and snotting at his grandmother's funeral.  It was such an inappropriate moments to be howling in a movie but that was the beauty of "Wayans-esque" comedy. When we go high, they go looooow and it typically comedy gold. There is no way the Wayans could have thrived in today's PC-driven space but at least we have their legacy cemented in their work. That said, Blankman is one of those movies that can be watched anytime it comes on so imma need these streaming services to add Blankman to its platforms immediately….for the culture. R.I.P. J5
Chantell. Chantell. Chantell. She was smart, pretty, sassy, and driven. It was refreshing to see a girl from the "hood" who was about her shit. She wasn't complacent in hood dreams. She wanted to be a doctor. It was also frightening to see her still fall into the trappings of her environment. Chantell hiding her pregnancy from her mother and giving birth at her boyfriend's house scared the shit out of me and highlighted the seriousness of how one night of passion can upend your entire life. The story of Chantell was the story of sooooo many women who have had to make these adult decisions while still children. What I really appreciated about the movie was that even though her dreams were deterred, they were never derailed and that was inspiring. There is always hope when it comes to a Black woman following her dreams.
Talkin' Dirty After Dark was definitely one of those movies I caught on accident, up late channel surfer on cable as a kid. I remember seeing Martin Lawrence and remembering him from House Party (which I also watched on the sneak) and it catching my interest and laughing my ass off at jokes I didnt really understand until I was an adult. It was beyond silly and skanky, and inappropriate in a wholesome way, if that makes any sense. Its also hilarious to think of now, as an adult, that the entire premise of the movie is so Martin's character 'Terry' can get $67 dollars to pay his phone bill. HA!
There used to be a time during the 1990s when you had to clarify which Dr. Dre you were talking about. There was Dr. Dre the producer and Doctor Dre, the radio and video personality. It was the latter whom people knew, along with Ed Lover, as the host of Yo, MTV Raps, one of the only shows on TV at the time that was dedicated solely to hip hop. Who's the Man is one of those silly movies sprinkled with consciousness. These two black men became cops to avenge the death of a neighborhood staple, and fight against gentrification in their hood. It is one of those movies that I wouldn't mind seeing re-imagined set to the 2020s. Fun fact: Who's the Man was actor Terrance Howard's feature film debut…mane.
Meteor Man was THEE first Black superhero movie. PERIODT. I mean, what didn't Meteor Man give us? Sci-fy? Check. Superhero? Check. All Black cast? Check. All-star cast? Check. Black writer/producer/director? Check. Positive messages? Check. Blonde hightop fades? Check. Meteor Man was everything Black culture needed, and then some. From SyFy:
An all-star cast consisting of Robert Townsend, James Earl Jones, Bill Cosby, Eddie Griffin, Marla Gibbs, Frank Gorshin, Don Cheadle, and Sinbad kept the messages positive and the fashions colorful in a hilarious tribute to comic-book crusaders trying to keep their neighborhoods safe. It was the first Hollywood superhero feature spotlighting an African-American character and majority of its cast and paved the way for later incarnations of black superheroes in films and TV series like Black Panther, The Avengers, Black Lightning, and Luke Cage.
Livin' Large – 1991

Before T.C. Carson was shooting the dozens against Maxine Shaw in Living Single, he was Dexter Jackson, a Black man fighting against selling out his Blackness in order to achieve success in the white-dominated news industry. It highlighted how thin the line is that separates keeping it real vs selling out and challenges the integrity of the decisions one has to make when presented with success. How much of your soul, and your people, are you willing to sell in order to make it? Again, this is another movie I would like to see re-imagined in 2020s' context.
Remember I told you I'd get back to Rusty Cundieff? Let's give him his flowers! He's an actor, writer and director. Truth be told, I always thought he was a bit corny as an actor (remember Sprung with Tisha Campbell?) however, I could not deny his brilliance as a writer and director. Did you know he was the director behind Chappelle Show? He was also the director, and screenplay writer, of Tales from the Hood. Tales from the Hood was ahead of its time. This one movie tackled police brutality, child abuse, slavery, and gang culture. It was dark, gritty, funny, and haunting. As a Black youth living in the gang-infested 90s Los Angeles, it highlighted real fears we faced walking outside every day. And then the beautiful twist at the end. It should've been a show.
Do you remember watching Strictly Business for the first time and your jaw hanging on the floor due to the sheer beauty of one Miss Halle Berry? You couldn't tell Black women named 'Natalie' shit, I can't blame them. It was a perfect rom-com for us, by us. And it gave us the classic bop by Jeff Reed "You Called & Told Me". Go Natalie! Go Natalie!
We don't die, we multiply. Did you know that BeBe's Kids was the first animated feature to feature an entirely Black main cast? I remember when BeBe's Kids came out and being amazed by how well Faizon Love was able to do Robin Harris' voice. BeBe's Kids was originally slated to be a feature film starring Robin harris but he died in 1990 while in pre-production so the movie ended up being animated with Faizon voicing Harris. BeBe's Kids was hilarious but it did not sugar coat the realities facing BeBe's Kids. Unfortunately, do to various circumstances, variations of BeBe, and her bad ass kids, were and are a real thing. These kids are essential raising themselves in desolate situations but also teetering a fine line of survival but also still in a better position than they would be if they were in foster care. BeBe's Kids acted out, not because they wanted to, but because they had to and we all must keep that in mind before we disregard those kids or label them misfits.
Now I know there are a lot more than ten Black Cult Classics so please feel free to share your faves in the comments. And a note to the streaming services….PLEASE ADD THESE MOVIES AND MORE MOVIES LIKE IT! Please and thank you!
Happy Black History Month!