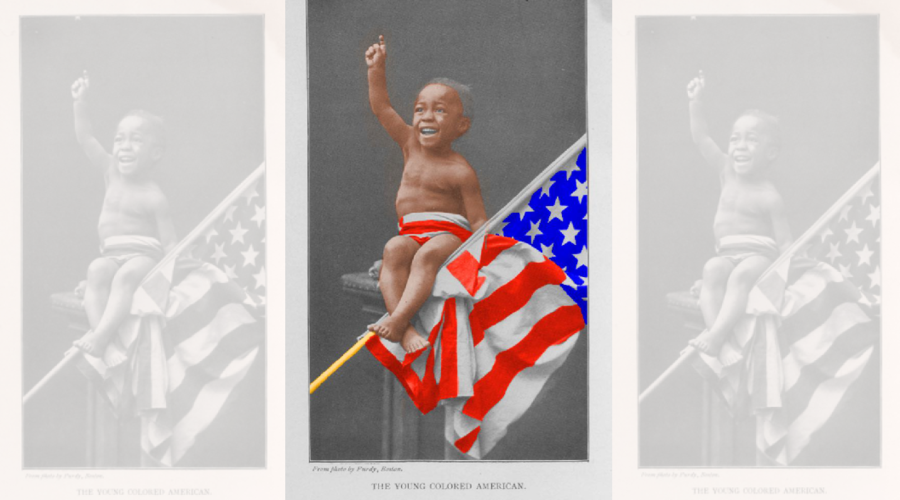 Today is July 4th. Apparently it is also the 244th celebration of the birth of a nation: America, land of the free, home of the brave. This 4th hits a little different though. Not for Black people. Nah. Frederick Douglass gave his "What to the Slave Is the Fourth of July?" speech in 1852. Black Americans have been fully aware of what the 4th represents for us. It is like being excited about going to a party you weren't invited to.
This shit hits different for White Americans who have somehow managed to spend the last 244 years with their heads under sand and are now willing to acknowledge a) how the "land of the free and home of the brave" only applied to them and b) the part they (and their ancestors) played in keeping it that way. It is like a light went off and White Americans decided to finally look down at the foot on our necks and said "oh golly I didn't notice my foot there."
And now, in the midst of nationwide protests against the unjust killings of Black people at the hands of law enforcement, White America is forced to hold up the mirror and see what being an American truly means.
In 1901, American journalist, historian, writer, orator, civil rights activist and Pan-African nationalist, John Edward Bruce  released his book: The Blood Red Record : A Review of the Horrible Lynchings and Burning of Negroes by Civilized White Men in the United States, as taken from the records. *TRIGGER WARNING*.  It details the horrendous abuse and disregard of black life at the hands of White Americans. From page. 13:
"The blood-thirstiness of the White men of America, who lynch and roast negroes at the stake, is the saddest imaginable commentary on the boasted civilization and humanity of the proud White race. A race that can quietly look on and see a human being, Black or White, cosigned to the deadly flames and writhe in agony and anguish for any crime, howsoever brutal or fiendish, is not far from barbarism."
This is the America we saw while White America watch fireworks with their rose-tinted glasses.
In fact, did you know that the 4th of July is a "Black American" holiday? Black people used the holiday to celebrate our freedom, becoming almost an exclusive celebration for the newly emancipated black people in the South. Keep in mind, Blacks in America had been free since 1863. It took until June 19, 1865 (aka Juneteenth) for word to spread to Texas which "officially" ended slavery in America. So it would make sense for southern blacks to celebrate on or near the 4th of July.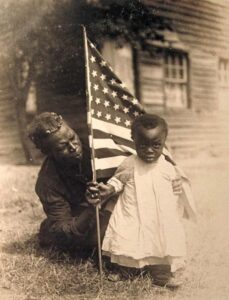 Prior to the Civil War, most blacks celebrated on July 5 for the reasons shared in Frederick Douglass's 4th of July speech mentioned earlier.  After the Civil War, Southern Whites were big mad and didn't want to celebrate the 4th due to that huge L they took from the Union so Black people, having never lost a party, decided to claim the day as our own.
Thousands of black people would gather in various southern cities for parades, marches, dancing, singing, and so on. Black men and women would perform a popular dance called the Too La Loo,  allowing "ex-slaves to poke fun at the elite courtship rituals of their former masters while also engaging in a raucous celebration of their own emancipation."
What happened next? Long story short, Southern whites also couldn't stand to see joyful free Black people celebrating liberty and freedom so they used political hijinks and intimidation tactics to break up our fun. Blacks lost access to public spaces, riots ensued, and vendors were prohibited from selling on streets where Blacks were celebrating. By 1902, southern whites decided to reclaim the holiday, all the while delegitimizing black people's claim to it.
View this post on Instagram
And now, 244 years later, even in the midst of chaos, I have never felt more American than I feel now because my people, Native Americans of African Descent, are representative of the American Dream. Black Americans are THE America's story. We are what "pulling yourself up by your bootstraps" really looks like. They can't hold us down. They can't get rid of us.
Black Americans survived the Middle Passage.
Black Americans survived being bred and sold as chattel.
Black Americans survived being stripped of our native languages and cultures.
Black Americans survived being considered 3/5th a man.
Black Americans survived anti-literacy laws.
Black Americans survived 100 years of Jim Crow.
Black Americans survived the KKK and every other white nationalist organized whose sole purpose to to bring harm to Black Americans.
Black Americans survived mass incarceration.
Black Americans survived crack.
Black Americans survived drug and gang violence.
Black Americans survived every known odd stacked against us and still managed to become inventors, doctors, lawyers,  judges, philosophers, educators, scientists, astronauts, cultural icons, and even president. But most importantly…free.
Black Americans are the most resilient people on this planet.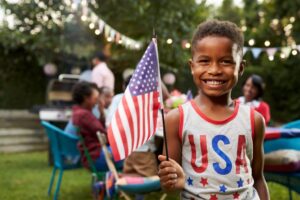 I have pride in the history of being a Black American. And while I may not fuck with that flag, or that shitty anthem, this July 4th, I don't mind celebrating being American because unlike "them", Black Americans are the real heroes in the story called America.
#JusticeForBreonnaTaylor
Happy 4th.
---
Here are ways to demand justice for Taylor's death while supporting both her family and the Louisville protesters:
Sign Petitions
Fight for Breonna: This petition outlines a list of demands, most of which provide support and answers for Taylor's mom Tamika Palmer. Some of the demands have already been met, including the dismissal of Walker's charges and a ban on no-knock warrants.
Change.org – Justice for Breonna: Law student Lorelai HoJay launched this Change.org petition to demand charges to be filed as well as damages paid to Taylor's family by the LMPD. It has nearly met its goal of nine million signatures.
Color of Change – #JusticeforBre: Color of Change is calling for Mattingly, Hankison and Cosgrove to be fired immediately.
Contact Louisville Officials
Louisville Mayor Greg Fischer: Demands for justice can be made by calling Fischer's office at (502) 574-2003 or by filling out the contact form on his site.
Louisville MPD: A contact form is available on the department's site. A template is widely available as well as a submittable form that will automatically send an e-mail in your name.
Special Prosecutor, Attorney General Daniel Cameron: Call 502-696-5300 or e-mail [email protected]
Kentucky Governor Andy Beshear: Call 502-564-2611
Jefferson County Commonwealth's Attorney Thomas Wine: Call 502-595-2300 or e-mail [email protected]
Donate
Breonna Taylor's Family: An official GoFundMe page has raised over $6 million for Taylor's family through their loss, surpassing its original $500,000 goal.