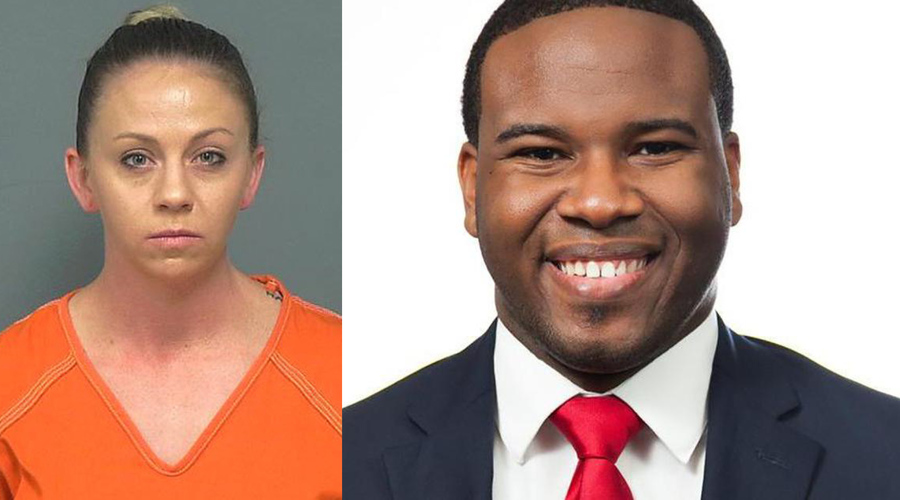 Testimony begins today in the murder trial for Amber Guyger, the Dallas cop who shot and killed 26 year-old Botham Jean, her unarmed black neighbor, while he was in his own apartment on September 6, 2018. Though Guyger "claims" *insert deepest of eye rolls* she mistakenly entered his apartment, thinking it was her own, and shot Botham thinking he was an intruder, a search warrant notes that "Guyger was trying to get her key to work when Jean confronted her at the door. "A neighbor stated he heard an exchange of words," the warrant alleges, adding that the officer "possibly believed" Jean was "an intruder."  Because intruders typically answer the door to apartments they are intruding.
In addition, after his murder, Dallas PD attempted to criminalize Botham by releasing information pertaining multiple search warrants executed at Jean's apartment, that noted small amounts of marijuana were found in his apartment. Because…duh…smoking weed justifies being killed in your own apartment by a "confused" trigger happy cop.  I digress…..
Botham Jean was from a prominent family from St. Lucia and was known for his leadership and singing voice in church. He was truly a pillar of his community and his family and friends are still grieving the void that remains from his murder.
Botham's killer was indicted on a murder charge on November 30th, 2018 on the basis that Guyger knowingly killed Jean,  not by mistake as she stated. Guyger faces life in prison if found guilty.
The trial is being presided over by Judge Tammy Kemp, a black woman, who has already gathered the courtroom on a few occasions this morning. The jurors will not have to determine if Guyger killed Jean. Instead, the jurors will listen to the evidence and decide if Guyger killing Jean was a crime…which it was…because her story does not make sense.
This should be interesting. I hate being pessimistic in thinking that this trial will end up like the countless other trials of officers acquitted for the murders of black people but America is gonna Amerikkka 10 times out of 10, so the odds are not in justice for black people's favor.
For more on Botham Jean's murder trial, click HERE
For more on Botham Jean's murder case, click HERE.
Watch the opening day of the trial below.
Prosecution Gives Opening Statement

Defense Gives Opening Statement

Day 1 – Murder Trial for Amber Guyger – Feed