A week or so ago, after Oprah announced she was donating $13 million to Morehouse, I saw a headass post about how celebrities only donate to the "trifecta" which was considered Howard, Spelman, and Morehouse.
View this post on Instagram
Outside of being KNEE DEEP in their "BuT wHaT aBoUt OtHeR hBcUs" feelings (literally throwing Howard in for shits and giggles) it highlighted how shortsighted and divisive this energy is. Do Spelman, Morehouse, and Howard have more name recognition than other HBCUs? Yes, but that's low hanging fruit. It is actually more convenient to throw shots at these three because they are easy targets. I'd also like to note that I fully recognize that grant money and "celebrity" donations are not the same. However, there are 107 HBCUs and we need to collectively do better at publicizing and promoting HBCU news on all fronts because if we don't, who will?
With that said, other HBCUs are definitely feeling the love, as seen through the game-changing news coming out of Southern University and A&M College in Baton Rouge.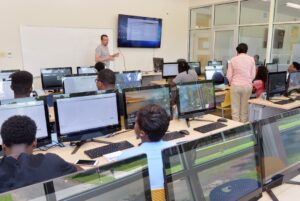 Southern University was award $1.65 million grant from the National Science Foundation to study cybersecurity for addictive manufacturing (CSAM). Through this program, students will learn how to "visualize how cyberattacks on digital 3D printer files can cause changes that might not otherwise be detected without monitoring every layer during the printing process."
"This project at SU will create the first cybersecurity 'spine' in an engineering program at an HBCU while training our students in an area of critical need," said Karen E. Crosby, principal investigator and faculty member in the College of Sciences and Engineering.
A general elective course is also being designed, along with CSAM education modules for freshman-to-senior level courses in the mechanical engineering curriculum. There will also be a study investigating the development of computational thinking in students using virtual reality.
This compliments Southern University's recent announcement of signing on as an academic partner with defense contractor* X Corp Solutions for the formation of the Center of Excellence for Cybersecurity, with the aim of training and certifying professionals in this high-demand sector. This three-floor facility is located near Marine Corps Base Quantico, near the nation's capitol, and will provide classroom lectures that can be broadcast back to classrooms at Southern's campuses. "The center will also provide state-of-the-art classrooms and conference rooms where the university will hire faculty and select students as they work on cybersecurity research projects and collaborate on contract proposals with X Corp and other members of the American Cyber League (ACL)."
This is a game changer in a field our presence is sorely underrepresented in. Technology companies are slowly finding their way to invest in HBCUs. The talent is there. Always has been. Now it is up to us to trust in ourselves and the institutions set up for us to thrive. Trust the process.
Never forget: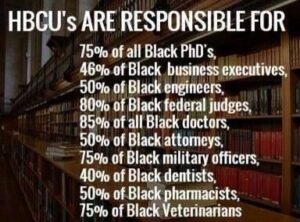 To close, as previously mentioned, there 107 HBCUs. As a Howard grad, its easy, and selfish at times, to only pay attention to all the news coming out of my university. That said, a more concerted effort will be made to spread that HBCU love. Please send any HBCU news that you think should be highlighted to [email protected]
Visit HERE and HERE to learn more about Southern University's cybersecurity programs.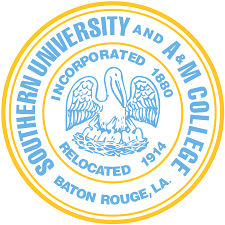 *I know there is a small segment (see: hotep spectrum) who will look at this as the government having a direct pipeline to black students to manipulate them into doing its nefarious work. And to a certain extent, I get it. But I counter with, what is your solution and what part are you willing to play to see it carried out?