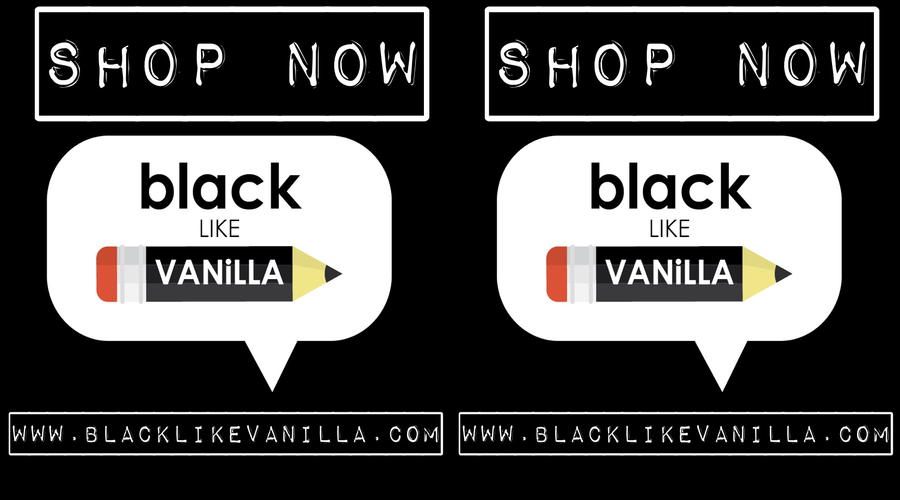 For the past four years, Black Like Vanilla (BLV) has been home to Black news, Black history, Black culture, and Black excellence, so today it is with great joy to announce BLV's expansion into merchandise. BLV exists to tell our own stories and redefine Blackness on our own terms. This merchandise reflects this vision onto you. Check out the collection below and visit BLV's store HERE. Free shipping with discount code: BLVSTORE.
Who said vanilla is white? Cuz the bottle of 100% pure vanilla extract I have in my kitchen is blacker than I am. The phrase "Black Like Vanilla" holds meaning for multiple reasons. One of those is how vanilla is perceived. Vanilla has been colonized. I am here to set the record straight.
Vanilla is black. Black as you. Black as me. Even the hand pollination technique for vanilla was developed by a 12 year old slave named Edmond Albius. The last thing vanilla should be associated with is white. Just because of the color of ice cream? Make it make sense, beloveds. Vanilla Complexion does not exclude light-skinned Black people. In fact, it is an invitation for darker-skinned Black people to join the party. Vanilla is the one drop rule. There is no denying our flavor. Bask in your Vanilla Complexion and all its glory!
Vanguard is/are leaders of a movement of new ideas and actions. Black Panther leader Fred Hampton once said the following during a 'call and response':
"All power to all people. We say white power to white people. Brown power to brown people. Yellow power to yellow people. Black power to black people. X power to those we left out. We say Panther power to the vanguard party."
See video below. I highly recommend you watch the full thing though.
We are the "Vanguard Party" FUELED by the Panther Power left behind through the legacies of those who came before us. We are the leaders we have been waiting for. It is time for us to look within and take back control of the power that has been in us all along. We are the leaders of the new school of thought and consciousness. We are the second iteration of the Harlem Renaissance, which as you know was not exclusive to Harlem. This is the beginning of the renaissance of the Vanguard party! All power to the people.
You know I had to save the best for last…
So here is the problem with where vanilla currently stands. Not only do we think its white, we also associate it with being bland and boring. Lite werk. NO drip. NO sauce. The only thing bland and boring about it is association with whiteness.  These are just facts.
Vanilla is bold. Vanilla is unique, Vanilla is powerful. Vanilla is fragrant. Our history has depth, like vanilla. Our culture is rich, like vanilla. And our skin is black, like vanilla.
Vanilla is your favorite rapper's rapper. The OG. So when I say Black Like Vanilla, I say that shit with my fucking chest.
View this post on Instagram
Our ancestors passed down our history orally from one generation to the other. BLV aims to continue the work of our ancestors through the preservation and publication of our own stories, fulfilling a desire for true knowledge of our people, with the goal of a) altering how we see ourselves and b) altering how the world sees us…on our own terms.  To quote Malcolm X: We cannot think of being acceptable to others until we have first proven acceptable to ourselves.
THIS is Black Like Vanilla. Let's get uncomfortable. We have a lot of work to do.