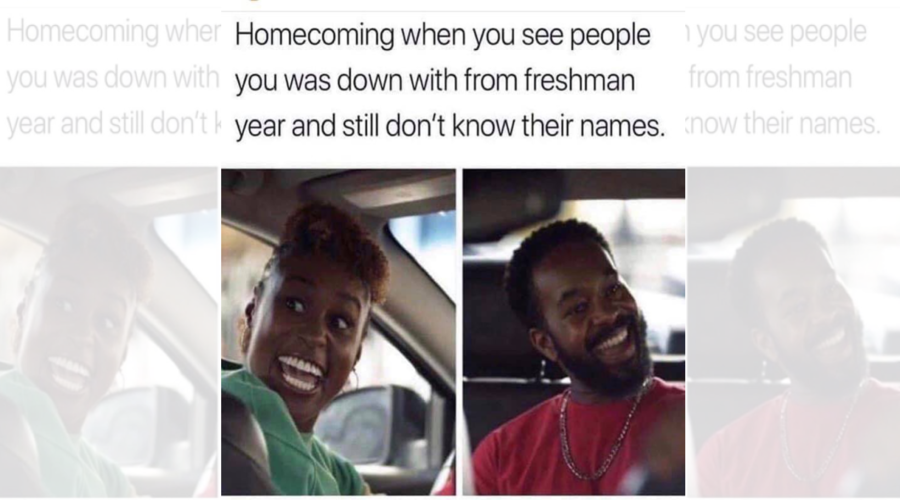 That time of year is upon us. The pilgrimage of Black alumni to their respective Historically Black Colleges and Universities (HBCUs).
Homecoming SZN
That time of year where you see people whose face you remember but name you forgot, and when they ask what you've been up to, you respond with the "Man, I'm just trying be like you" and its all love because everybody is outchea winning.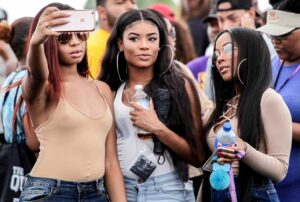 Homecoming SZN is a reminder of why you made the choice to attend an HBCU and how you are part of this rich legacy and traditions.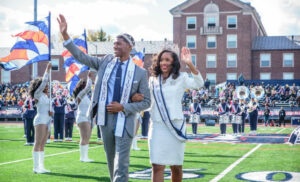 Homecoming SZN is literally coming back to a place that felt like home…where the students and faculty looked out for each other like family, because in this safe space, that is exactly what we were, family.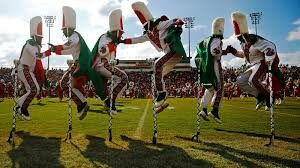 Did you know that 93 of the 107 HBCUs were founded between 1837-1935. Seven HBCUs were founded pre-1865, back when slavery was still legal*, Cheyney University of Pennsylvania being the first. After the end of the Civil War, the Reconstruction Era went from 1866-1877. Due to Black Codes of 1865-66,  severely limiting the rights and freedoms of newly freed slaves, the Civil Rights Act of 1866 was passed giving black people the opportunity to "enjoyed a period when they were allowed to vote, actively participate in the political process, acquire the land of former owners, seek their own employment, and use public accommodations."  During this time, there was a boom of HBCUs established.  Twenty-four HBCUs were established between the five-year period of 1865-1870. Nine of those were established in 1867 alone! This time period was crucial for newly freed blacks and the abolitionists who advocated on their behalf. It speaks volumes to the small window of opportunity afforded to Black people at their most vulnerable time. Imagine being freed from slavery, something you've known your entire life, and being made aware of the prospect of getting an education at an institution established specifically for you. The gravity of that should never be dismissed or overlooked.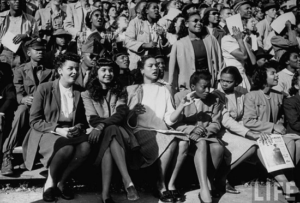 Those who attend HBCUs are legacies of this moment and movement. It is not just about the bands or the step shows or the parties. Homecoming SZN is the current student body and alumni paying homage to our brave ancestors, who knew they could be killed for receiving an education and yet put faith in these institutions to provide a safe space to learn, build a community, and been seen as humans. They set up the framework to create these "home" environments so that the alumni who came after them always had a place that was welcoming.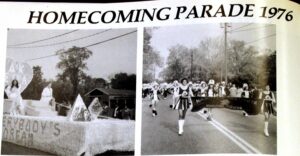 So lets celebrate the beginning of one of the most culturally rich SZNs of the year. Your timeline is going to be flood regardless if you acknowledge or not. *insert kanye shrug*
*The Emancipation Proclamation was authorized in 1863 but slavery was not completely abolished until June 19, 1865.
Below is a list of each HBCUs 2019 Homecoming schedule (arranged by date):
Delaware State University
Visitor:Howard University
Location: Alumni Stadium, Dover, DE
Date: September 21, 2019
Cheyney University of Pennsylvania
Location: Cheyney, PA
Date: October 3-6, 2019
Alabama A&M University
Visitor: Texas Southern University
Location: Louis Crews Stadium, Huntsville, AL
Date: Oct. 5, 2019 | 2 PM
Fayetteville State University
Visitor: Livingstone College
Location: Luther Nick Jerald's Stadium, Fayetteville, NC
Date: Oct. 5, 2019 | 2:00 PM
Florida A&M University
Visitor: North Carolina Central University
Location: Bragg Memorial Stadium, Tallahassee, FL
Date: Oct. 5, 2019 | 2 PM
Miles College
Visitor: Clark Atlanta University
Location: Sloan-Alumni Stadium, Fairfield, AL
Date: Oct. 5, 2019 | 4 PM
Mississippi Valley State University
Visitor: Virginia University of Lynchburg
Location: Rice–Totten Stadium, Itta Bena, MS
Date: Oct. 5, 2019 | 2 PM
University of Arkansas at Pine Bluff
Visitor: Lane College
Location: Golden Lion Stadium, Pine Bluff, AR
Date: Oct. 5, 2019 | 3 PM
West Virginia State University
Visitor: West Liberty University
Location: Lakin Field at Dickerson Stadium, Institute, WV
Date: Oct. 5, 2019 | 1 PM
Alcorn State University
Visitor: Savannah State University
Location: Spinks-Casem Stadium, Lorman, MS
Date: Oct. 12, 2019 | 2 PM
Albany State University
Visitor: Lane College
Location: Albany State University Coliseum, Albany, GA
Date: Oct. 12, 2019 | 2 PM
Benedict College
Visitor: Miles College
Location: Charlie W. Johnson Stadium, Columbia, SC
Date: Oct. 12, 2019 | 2 PM
Bowie State University
Visitor: Chowan University
Location: Bulldog Football Stadium, Bowie, MD
Date: Oct. 12, 2019 | 1 PM
Central State University
Visitor: Fort Valley State University
Location: McPherson Stadium, Wilberforce, OH
Date: Oct 12, 2019 | 1 PM
Edward Waters College
Visitor: Allen University
Location: Edward Waters College, Jacksonville, FL
Date: Oct. 12, 2019 | 3 PM
Howard University
Visitor: Norfolk State University
Location: William H. Greene Stadium, Washington, DC
Date: Oct. 12, 2019 | 1 PM
Jackson State University
Visitor: Alabama State University
Location: Mississippi Veterans Memorial Stadium, Jackson, MS
Date: Oct. 12, 2019 | 2 PM
Kentucky State University
Visitor: Clark Atlanta University
Location: Alumni Stadium, Frankfort, KY
Date: Oct. 12, 2019 | 1 PM
Lincoln University (Pennsylvania)
Visitor: Virginia Union University
Location: LU Football Stadium, Lincoln University, PA
Date: Oct. 12, 2019 | 1 PM
Morgan State University
Visitor: Delaware State University
Location: Hughes Stadium, Baltimore, MD
Date: Oct. 12, 2019 | 2 PM
Texas Southern University
Visitor: Missouri S&T
Location: BBVA Compass Stadium, Houston, TX
Date: Oct. 12, 2019 | 2 PM
Clark Atlanta University
Visitor: Savannah State University
Location: CAU Panther Stadium, Atlanta, GA
Date: Oct. 19, 2019 | 2 PM
Elizabeth City State University
Visitor: Lincoln University (Pennsylvania)
Location: Roebuck Stadium, Elizabeth City, NC
Date: Oct. 19, 2019 | 1:30 PM
Fort Valley State University
Visitor: Morehouse College
Location: Wildcat Stadium, Fort Valley, GA
Date: Oct. 19, 2019 | 2 PM
Lane College
Visitor: Kentucky State University
Location: Lane Field, Jackson, TN
Date: Oct. 19, 2019 | 2 PM
Lincoln University (Missouri)
Visitor: Northeastern State University
Location: Dwight T. Reed Stadium, Jefferson City, MO
Date: Oct. 19, 2019 | 2 PM
Prairie View A&M University
Visitor: Virginia University of Lynchburg
Location: Panther Stadium, Prairie View, TX
Date: Oct. 19, 2019 | 2 PM
Shaw University
Visitor: Livingstone College
Location: Durham County Stadium, Durham, NC
Date: Oct. 19, 2019 | 12 PM
South Carolina State University
Visitor: Morgan State University
Location: Oliver C. Dawson Stadium, Orangeburg, SC
Date: Oct. 19, 2019 | 1:30 PM
Tennessee State University
Visitor: Austin Peay State University
Location: Nissan Stadium, Nashville, TN
Date: Oct. 19, 2019 | 4:30 PM
Virginia State University
Visitor: Bowie State University
Location: Rogers Stadium, Ettrick, VA
Date: Oct. 19, 2019 | 2 PM
Virginia Union University
Visitor: Chowan University
Location: Hovey Field, Richmond, VA
Date: Oct. 19, 2019 | 1 PM
Allen University
Visitor: Columbus State University
Location: Columbia, SC
Date: October 26, 2019
Bethune-Cookman University
Visitor: South Carolina State University
Location: Municipal Stadium, Daytona Beach, FL
Date: Oct. 26, 2019 | 4 PM
Hampton University
Visitor: Virginia University of Lynchburg
Location: Armstrong Stadium, Hampton, VA
Date: Oct. 26, 2019 | 2 PM
Johnson C. Smith University
Visitor: Shaw University
Location: Irwin Belk Complex, Charlotte, NC
Date: Oct. 26, 2019 | 1 PM
Langston University
Visitor: Texas Wesleyan University
Location: W.E. Anderson Stadium, Langston, OK
Date: Oct. 26, 2019 | 2 PM
Morehouse College
Visitor: Benedict College
Location: B.T. Harvey Stadium, Atlanta, GA
Date: Oct. 26 2019 | 2 PM
North Carolina A&T State University
Visitor: Howard University
Location: Aggie Stadium, Greensboro, NC
Date: Oct. 26, 2019 | 1 PM
Savannah State University
Visitor: Albany State University
Location: Theodore A. Wright Stadium, Savannah, GA
Date: Oct. 26, 2019 | 3 PM
Grambling State University
Visitor: Texas Southern University
Location: Robinson Stadium, Grambling, LA
Date: Nov. 2, 2019 | 2 PM
Livingstone College
Visitor: Fayetteville State University
Location: Alumni Memorial Football Stadium, Salisbury, NC
Date: Nov. 2, 2019 | 1:30 PM
Norfolk State University
Visitor: Morgan State University
Location: William "Dick" Price Stadium, Norfolk, VA
Date: Nov. 2, 2019 | 2 PM
Saint Augustine's University
Visitor: Johnson C. Smith University
Location: George Williams Athletic Complex, Raleigh, NC
Date: Nov. 2, 2019 | 1 PM
Southern University and A&M College
Visitor: Alabama A&M University
Location: A.W. Mumford Stadium, Baton Rouge, LA
Date: Nov. 2, 2019 | 4 PM
Winston Salem State University
Visitor: Shaw University
Location: Bowman Gray Stadium, Winston-Salem, NC
Date: Nov 2, 2019 | 1:30 PM
North Carolina Central University
Visitor: Norfolk State University
Location: O'Kelly–Riddick Stadium, Durham, NC
Date: Nov. 9, 2019 | 2 PM
Tuskegee University
Visitor: Miles College
Location: Abbott Memorial Alumni Stadium, Tuskegee, AL
Date: Nov. 9, 2019 | 1 PM
Alabama State University
Visitor: Prairie View A&M University
Location: ASU Stadium, Montgomery, AL
Date: Nov. 28, 2019 | 2 PM