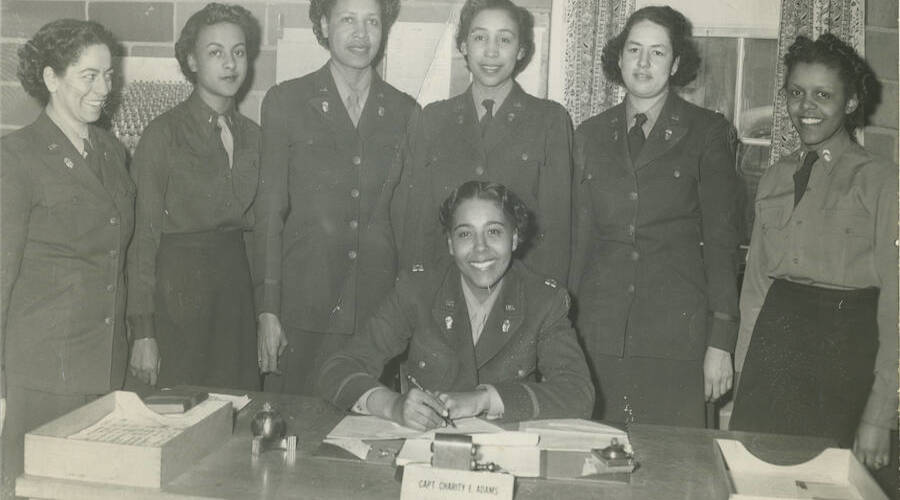 When Veterans Day falls on a Wednesday, the Wednesday after we "officially" elected this country's FIRST Black woman (v)President, I would be remiss to not kill two birds with one stone dedicate this #WCW/Veterans Day post to Charity Adams and the women of the 6888th Postal Service Battalion….the only ALL BLACK and ALL FEMALE battalion stationed overseas during World War II.
Before we hop into that I would first like to acknowledge all of those who have served in some capacity in our Armed Forces. We are grateful to you and your service!
The 6888th, nicknamed the Six Triple Eight, consisted of 855 Black women and was led by Charity Edna Adams. Adams was the FIRST Black woman officer in the Women's Army Corp (WAC) and was the highest ranking Black woman officer in the army when the war ended.
Adams was born on December 5, 1918 in North Carolina. She was an extremely bright young woman who graduated validictorian of her high school class. Charity went on to attend Wilberforce University, the country FIRST private HBCU, where she was very active in the university's branches of the National Association for the Advancement of Colored People (NAACP), the Women's Self-Government Association. Wilberforce University is also where she became a member of the historical Black greek-lettered sorority, Delta Sigma Theta Sorority, Inc.
After graduating from Wilberforce in 1938, Adams taught math and science at a junior high school in South Carolina. In 1942, the United States expanded its military forces, creating the Women's Auxiliary Army Corps (WAAC), later known as the Women's Army Corps (WAC). Adams applied and was accepted. By 1943, Adams was promoted to major, making her the highest ranking female officer of any race at the training center.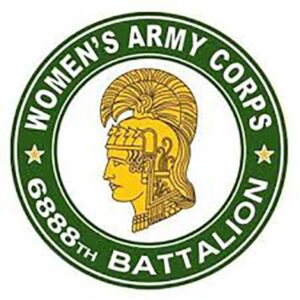 In 1944, Black educator, stateswoman, philanthropist, humanitarian, womanist, and civil rights activist Mary McLeod-Bethune had the ear of First Lady Eleanor Roosevelt and asked her to create "a role for Black women overseas".At the time, there was a massive backlog in sorting, processing & delivering approximately 7 million letters to soldiers stationed overseas. Morale was slipping as soldiers were completely disconnected from the warm words from their loved ones. This is where the Six Triple Eight went into action.
Under Adams' command, the women were given six months to clear the massive backlog. But you know Black women are gonna "Black women" so they went above and beyond by completing the task in just three months. They were redeployed to other countries in Europe to keep the mail moving. Their motto: "No mail, no morale". Though the work of these women propped up soldier morale during (WWII), they're still black & that meant segregation. They had to sleep in separate barracks & eat in separate mess halls.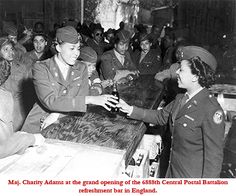 Don't get it twisted though. These women were not just mail sorters. They were extensively trained, crawling under logs wearing gas masks, jumping over trenches, learning to identify enemy aircraft, ships, and weapons, rope climbing, how to board and evacuate ships, and doing long marches with rucksacks.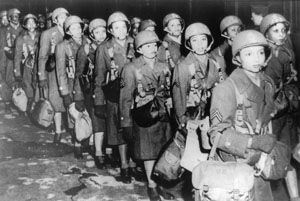 Six Triple Eight vet, Mary Crawford Ragland, said 'We served our country proudly, & we did a good job, people were so positive. They asked, 'Why does your country treat you so badly when black people have contributed so much to the country & the culture?' It was embarrassing having them ask that…When we came back, though, there were no parades, there were no speeches, there was no recognition. They gave us our papers discharging us & sent us on our way."
Along the way, Maj. Charity Adams was promoted to lieutenant colonel on December 26, 1945. This rank was the highest possible promotion for any women in the WAC . In March 1946, Lt. Colonel Charity Adams asked to be relieved of active duty. Adams got married in 1949 and remained very active in community and civic work, up until her death in 2002.
Per usual, it took American another 64 years after the war for 6888th to get the recognition the accomplishments of these trailblazing women. A monument was put up in their honor in the Buffalo Soldier Military Park at Fort Leavenworth, Kansas along with other monuments honoring Black individuals and units, and consist of a 25-inch Bronze bust of the unit's Commanding Officer, LTC Charity Adams (Earley), eight black granite panels highlighting the unit's lineage, historical information, and key unit pictures.  The monument was dedicated in November 2018.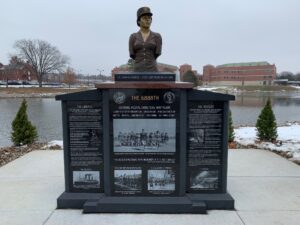 Ladies, thank you for your service. You legacy will never be forgotten. To quote Six Triple Eight vet Gladys Schuster Carter "You are standing on our shoulders, but let me tell you what our pride is: seeing you young women who have succeeded since us."
A list of most of the 855 Black women of the Six Triple Eight can be found HERE.
Salute!