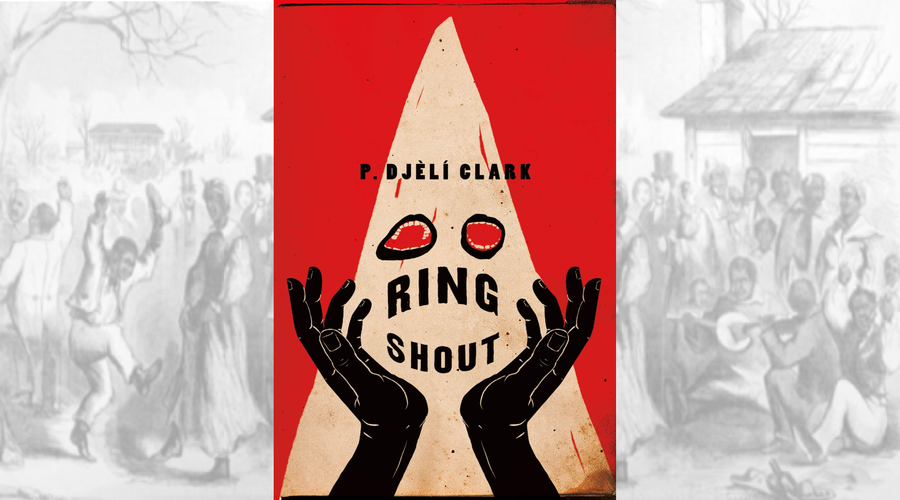 If Sundays haven't been hittin the same since Lovecraft County's season ended then you may want to pick up this book to help you get your fix….
Ring Shout is the latest release from author P. Djèlí Clark. It manages to pack horror, the supernatural, witchcraft, Black, American, and Gullah history, race & racism, and the ancestral magic of African chiefs and Black souls sold into slavery within its 181 pages.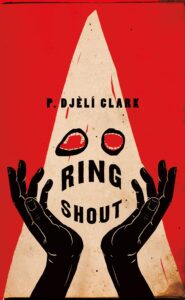 It is a quick read, but that is only because it is almost impossible to put down. If I had a dollar for every time I said "No fucking way" as I threw the book….well I'd have enough money to buy a new book cuz I kept throwing that bitch.
So let me give yall a quick "sistagirl" synopsis *insert hard lip smack*: So boom, check it. There are three homies: Chef, Sadie, and Maryse, three young Black women living in Macon, GA. They are lady-bootleggers during the day (and night) and also moonlight as Ku Klux hunters. Y'all still with me?
Actually, I am getting ahead of myself. Lets start with a history lesson…
It often took place after a prayer or worship service. In Jamaica and Trinidad, "the Shout" was performed around altars. In the U.S, Baptist churches prohibited drumming and dancing which ruled out most religious dances especially from African descendant. Since ring shouting generally did not use musical instruments other than clapping and stomping it was allowed in churches after the formal worship. However Slave owners would discourage religious dances, and preachers would condemn them.

The ring shout is considered by some, to be the Spirit of God taking over someone's actions. This is a charismatic quality that stems from a combination of African notions and the Holiness Pentecostal movement. Like the Spirituals and musical traditions, aspects of the ring shout have heavily influenced all types of dance.The ring shout influenced European dance, jazz, blues, ballet and finally helped create modern dance which includes hip-hop. In different areas dances were preserved from Africa.
In fact, stepping and step shows of Black Greek Letter Organizations (BGLOs), also known as the Divine 9, are rooted in 'ring shout".
Ok so back to Ring Shout – the book…
The book is set in 1922's Macon Georgia and is about these three bad ass Ku Klux hunters. The story's protagonist is Maryse, a 20-something year old Black woman with a past she is trying to keep hidden and a magical sword powered by the spirits of our ancestors. Her two homegirls, Sadie and Chef, are no slouches either. Sadie is a sharp shooter and Chef is a Harlem Hellfighter World War I vet. Like I said…..they are the absolutely with the shits.
Outside of bootlegging Mama's Water, part corn, barley liquor, and Gullah root magic, these three hunt monster also known a Ku Klux. These aren't your normal Klan who wear hoods and terrorize Black people, though they are directly associated with them. No, these "demons (who) wear white hoods" were created through witchcraft conjured through hate and the revival of the Klan thanks to D.W. Griffith's 1915 movie "Birth of a Nation", which was actually responsible for the REAL revival of the KKK. In Ring Shout, "Birth of a Nation" is also used as an indoctrination tool to turn (human) Klan members in Ku Klux (monsters). Think about them being part Bane, part werewolf, part Frankenstein, and 100% hateful racist, who hides in the skin of White people. Yeah this book went there.
The metaphors woven into this story are paramount. It's no wonder so many Karens and Kevins are getting offended by how American whiteness is now represented in media. White people are reckoning with the accurate depiction of their roles in American history and do not like the image reflecting back at them. Truth hurts. #SorryNotSorry. They need to direct that heat to their parents, grandparents, great-grand parents, and all of those who came before them who made "white supremacy" a thing to uphold and preserve.
I digress….
Maryse, Sadie, and Chef work under Nana Jean, a Gullah woman who leads the Shout. It is her magic that is used in the Mama's Water moonshine. Nana Jean plays the maternal role and has helped each of the three woman overcome hardships they've faced by being a mentor and a protector. Nana Jean can also sense that big trouble with Ku Klux is afoot and understands that Maryse will have her hands full trying to stop it.
Oh, I forgot to mention that ALLL that I just shared happens in the first two chapters. Again, this book sucks you into a world that is as frightening as it is magical.
Also, for those unaware of who or what Gullah is….
The Gullah/Geechee people are descendants of African slaves that were brought to Charleston in the late 1500's. When the slaves that were brought to the Carolina Colony were captured, they were placed in prison cells along the West African coast line. In these prisons, the slaves were introduced to Africans from different tribes and regions. Ultimately, this was the beginning of the Gullah people; the intermingling of the variety of African backgrounds as well as the different dialects spoken created a new space for the slaves to come together and uphold their African culture as best as they could within the circumstances.
After reading this book,I am convinced that it needs to be adapted into a series. It is so refreshing to get Black stories that are not the standard norm. In fact, Clark states the following in the acknowledgement section of Ring Shout:
"Who says all fantasies with sword-wielding heroes and heroines have to be in Middle Earth, Westeros, or even our dreams of Africa past…Maybe they can happen right here, too"

It is such a joy to witness Black art and culture pushing the limits of thought and opening up our minds to a host of realistic and relatable stories that need to be told. This is how we inspire current and future generations to see the power within ourselves that is free from from White distortion. These are our stories. We are just getting started so I suggest you start buying mason jars to collect white tears because they are going to flow like the Mississippi river.
But until then…please buy this book Ring Shout and thank me later.