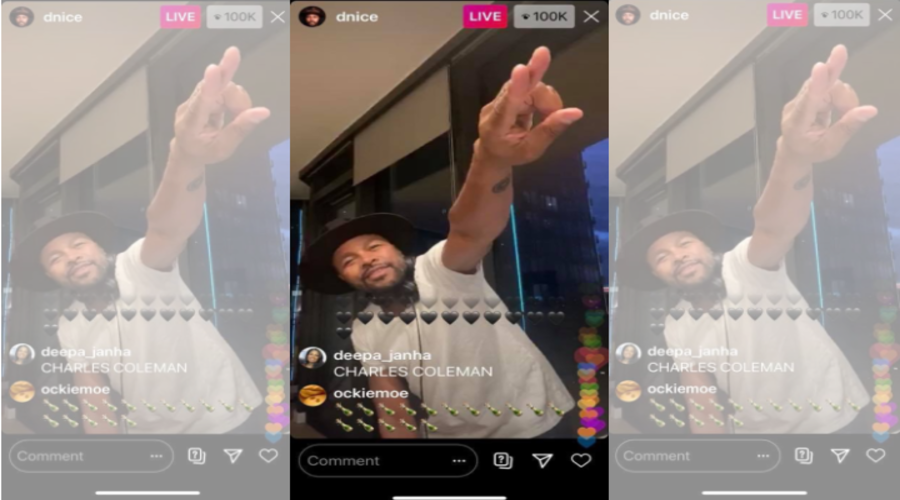 During Howard University's homecoming (HU. YOU KNOW), one of my close friends throws a brunch/day party at this spot called Barcode. Kicks off around noon. It starts off like your typical Black & Bougie brunch…a scene dripping with black excellence with the DJ pounding out your favorite hits. Then around 3pm or so, they move the brunch tables and the PARTY party starts. By now, you've taken full advantage of the bottomless mimosa situation and are standing up in your section big-upping the homie you see across the way. You come together on the dance floor, vibing to the music, telling each other how popping. it is. Then you start seeing familiar face after familiar face and the party becomes a reunion. But then something magical happens after that. The party is not over. In fact, it is transitioning into the next stage. You look at your phone and see its 8pm and you have multiple texts asking you if it's still poppin there. The answer is always yes. You welcome in a new wave and the turn up never misses a beat. By the end of the night, it is actually morning and even though you're beat..you know it was all worth it.
Yesterday, March 21st, at approx 3:10pm (PST), my house turned into Barcode thanks to DJ, rapper, and producer D-Nice and Club Quarantine. I danced so hard that my body hurts. No like I legit limped down the stairs this morning, My knees are shot. I got over 12,000 steps during his 9 hour DJ set. But it was so worth it. Quick shout out to my LS who put me on to this magical moment early.
There aren't words to describe yesterday but I'm gonna try anyway.
For the last five days, D-Nice has been hosting DJ sets on his IG live to help us pass the time during this craziness. He had an audience of 200 people. But something majestic happened yesterday. In the new age of 'social distancing' a term that will probably trigger us for generations to come, 101,000 came together from all over the world, united by a love for music and fellowship. This was a moment, one that can never be duplicated. You love to see it.
nbsp;
D-Nice's Club Quarantine was like if everyone got an invite to the Roc Nation Brunch that takes place Grammy weekend. Everybody was in that joint. I mean everyone. All your favorite celebs and probably some not-so-favorite. Mark Zukerberg was in there spying in plain sight.
It also seemed like every single Democratic presidential candidate not named Pete Buttigeig was in there. Yes they were pandering (Except Kamala). Ask Joe Biden and Elizabeth Warren right now who D-Nice is cuz I don't believe them. Ok….Thats my only snarky moment for this piece.
Outside of the celebs, it was like all the homies got the invite too, able to share this moment together despite being forced into self-isolation. HBCUs where in there DEEP!
When I entered Club Quarantine, it was 10k strong, which is a feat in itself. Imagine being at a party with 10k people. I dipped out at 5pm for a few hours for a virtual happy hour (please have those with your friends if you haven't already) when it was at about 20k. Came back around 6:30pm and there were 78k ppl, including FLOTUS Michelle Obama. At 7:26pm (PST), Club Quarantine hit max capacity at 101k people. It was a wild to witness!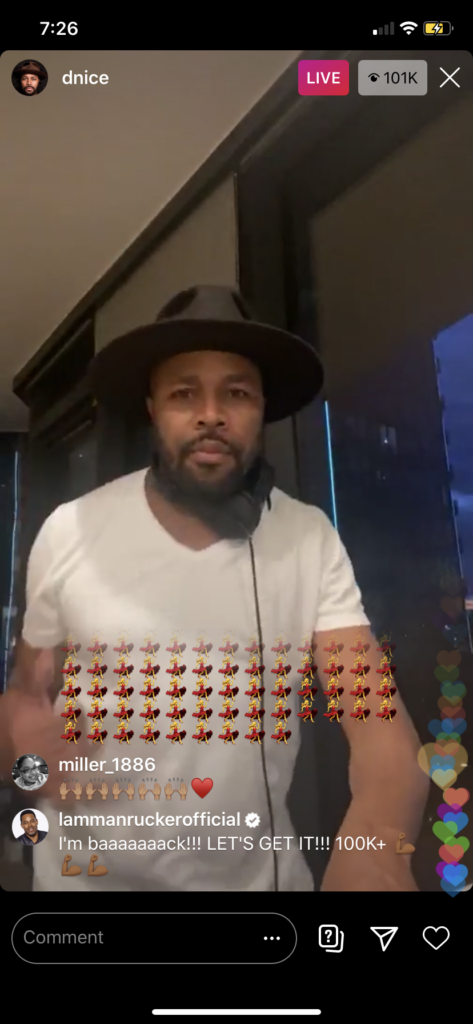 Yesterday D-Nice reminded us of how connect we are as humans. He reminded us that we are one and that we need to look out for each other. Yesterday was for the culture. Black culture but also the culture of human kind. For 9 hours we were able to let our hair down and forget that the world is ending.
D-Nice set the bar yesterday and I am forever grateful. Yesterday transported us to every school dance from every stage of life. We were transported to family reunions and barbecues. We were transported to the backyard you made up dance routines at. We were transported back to when you taped posters of your faves on your wall.
Yesterday we were transported back to the before time…a time we are unsure we will ever see again. D-Nice gave us Patti, Chaka, Janet, Frankie Beverly and Maze, Marvin Gaye, Stephanie Mills, LUTHER, Erik B, Doug E. Fresh, Rih Rih, Drake, David Bowie, WHAM, Terrance Trent D'Arby, Sound of Music, songs from Strictly Business and House Party, BBD, and the list goes on. I didn't even care that we didn't get a West Coast set cuz bruh was giving us his all for the greater good…just because. He was the hero we didn't know we needed.
A friend of mine who was also getting his entire life at Club Quarantine, said the following which is the truest shit ever:
We make lemonade out of lemons.
We make soul food out of old food.
And we make parties out of quarantines
And you know why, cuz Black people aint never lost a party. And that is why in the face of chaos, we can keep cool and enjoy the moment. This aint our first crisis. Black people have managed to make it this far despite the circumstance and when it is all said and done, we will overcome this too. Just know that while we do, it will be to the backdrop of a fire ass playlist!
Oh,I forgot to mention….the party starts all over again today, at 3pm on D-Nice's IG Live. I'll see you there, though I may need a walker cuz whew chyle these knees…..