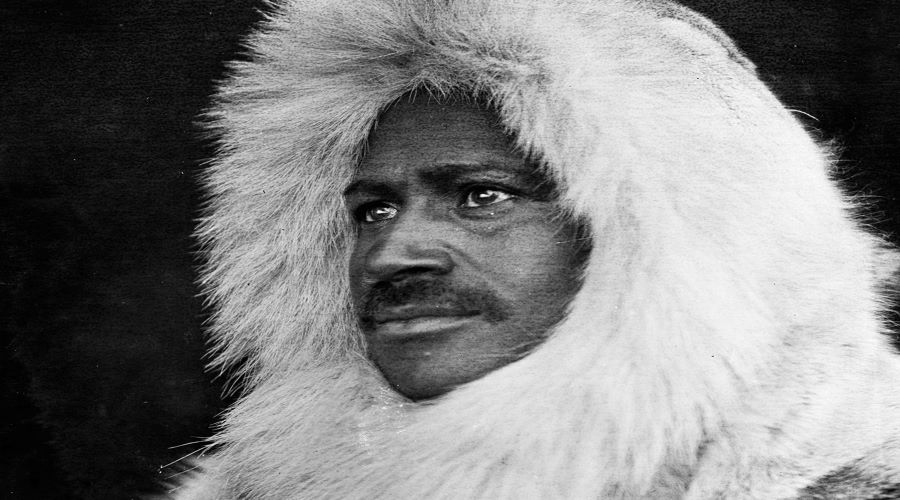 Raise your hand if you learned in school that one of the first people to EVER reach the North Pole was a black man. Yeah, my hand is down too. Truth be told, I don't even remember learning about this at all & am damn sure that if I knew that one of the explorers were black, I'd remember. Matthew Henson, born today, August 8, 1866, is recognized as the FIRST man to reach the Geographic North Pole with explorer Robert E. Peary & a crew of "Inuits, Ootah, Egingwah, Seegloo, & Ooqueah arriving a few moments later".  The backstory on the life of Matthew Henson is as follows:
From Encyclopedia Britannica: "Orphaned as a youth, Henson went to sea at the age of 12 as a cabin boy on the sailing ship Katie Hines. Later, while working in a store in Washington, D.C., he met Peary, who hired him in 1887 as a valet for his next expedition to Nicaragua (1888). Peary, impressed with Henson's ability & resourcefulness, employed him as an attendant on his seven subsequent expeditions to the Arctic (1891–92; 1893–95; 1896; 1897; 1898–1902; 1905–06; 1908–09). In 1909 Peary & Henson, accompanied by four Inuit, became the first men to reach the North Pole, the rest of the crew having turned back earlier. Henson's account of the journey, "A Negro Explorer At The North Pole, appeared in 1912 (which included an introduction by Booker T. Washington & a forward by Peary). The following year, by order of President William Howard Taft, Henson was appointed a clerk in the U.S. Customs House in New York City, a post he held until his retirement in 1936. Henson received the Congressional medal awarded all members of the Peary expedition (1944)."
Henson was also the first Black Person accepted into The Explorers Club, " an American-based international multidisciplinary professional society with the goal of promoting scientific exploration & field study". Henson died in 1955. His remains were reinterred with a monument at Arlington National Cemetery. Salute to the legacy of Matthew Henson.
*Fun Fact, it is believed that Henson is the brother of Taraji P. Henson great-great-grandfather.
View this post on Instagram