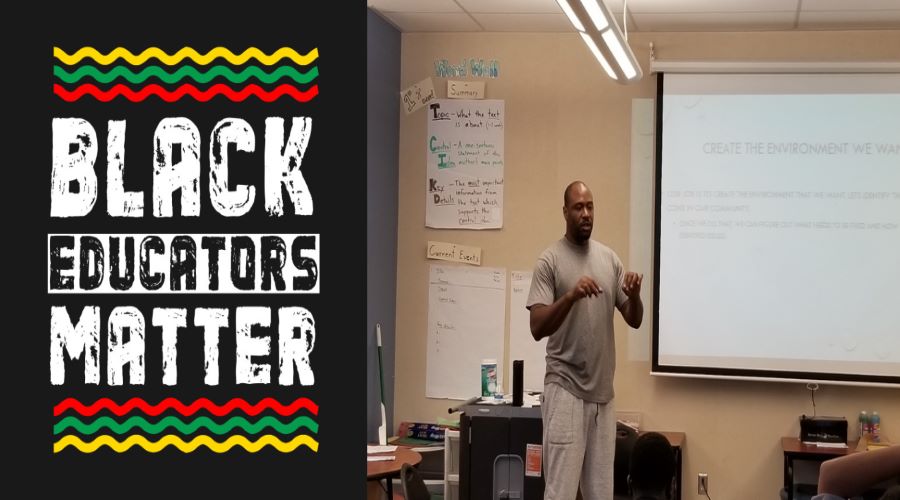 Back to School season is in full swing so Black Like Vanilla wanted to take this opportunity to highlight Black people working in education with our "Black to School" spotlight, highlighting all of those hard working black teachers, professors, administrators, counselors, and so on, who play such a crucial role in developing our future generations. We see you! We appreciate you! We support you!
Today we acknowledge Anthony Washington, Head SEL/Special Education Teacher at Garfield High School and the 8th Grade Humanities Teacher at the Academy for Creating Excellence (ACE). Both schools are located in Seattle, Washington. Anthony has been in education for four years. Anthony is a Seattle native who graduated with a Bachelors Degree in American Ethnic Studies and a Masters Degree in Special Education from the University of Washington.
Anthony's greatest reward in working in education is making connections with his students and their families as well as seeing growth in his students.  "I enjoy learning from my students and making connections to society in order for children to understand how they apply the information they learn in real life. It's a joy to see the children I work with grow intellectually, socially, and emotionally!"
Challenges Anthony has faced in working in education is his role as a protector of black students in a society built on White supremacy. Anthony is preparing his black students to "maneuver through an inherently racist institution and challenging it at the same time."
 Through his work in education, Anthony hopes "my students know that I genuinely believe that they are capable of doing great things! I want my students to feel encouraged and prepared to deal with the many obstacles that they may encounter. I want my students to look at adversity like its nothing and I want them to stay positive, even when they are in negative situations. I hope that they know that I care about them and I am rooting for them! I want them to understand that they will define success for themselves. My principles that I use, Expectations, Accountability, Patience, Love, Consistency, Inclusion and Respect. I want them to know that they have someone that will go to bat for them!"
Thank you Anthony for your selflessness, sacrifice, and dedication. I am sure those children will remember you and the impact you made in their lives as they grow up. They are so lucky to have you!
If you would like to nominate someone for our "Black To School" spotlight, please email black[email protected]. Subject line: Black To School Spotlight.