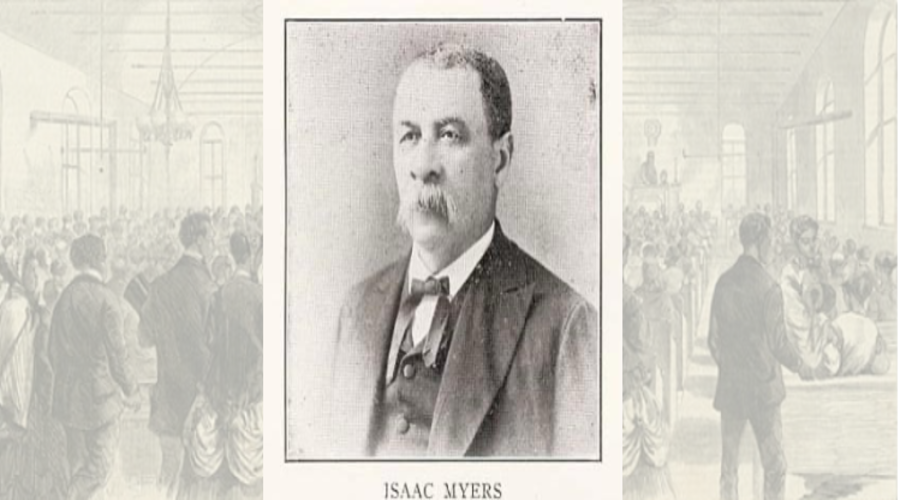 As many of us enjoy this Labor Day holiday, I thought it would be fitting to acknowledge a pioneer to the Black Labor Movement. A. Philip Randolph's Brotherhood Of Sleeping Car Porters is typically looked at as the first Black union to be recognized by a national body in 1925, however many do not know about Isaac Myers and the Colored National Labor Union he helped establish in 1869.
Issac Myers, born a free man in 1835 Baltimore, is the grandfather of union organizing for black workers. Myers was 16 when he learn the trade of a ship caulker, becoming the apprentice of a well-known Black ship caulker Thomas Jackson. Myers quickly moved up the ranks and by 20 he was in charge of his own crew. During that time, Baltimore shipyards employed employed many free Black men. In fact, Frederick Douglass worked as a caulker from 1836-37, shortly after escaping slavery.
In 1838, black shipyard workers "formed the Caulkers Association, one of the first black trade unions in the U.S. This was a true union: Bargaining collectively with Baltimore's shipyard owners, it made significant gains." Blacks shipyard workers were getting paid more than whites, which did not go unnoticed, resulting in white workers to rioting, revolting, staging walkouts, and forcing employers to decide between hiring black or white workers. Because White Supremacy reigns supreme, "in 1865, white workers staged a successful strike that forced shipyards to dismiss African-Americans. Approximately 1,000 dock workers lost their jobs."
As a result, Myers "organized a group of black and white businessmen to create a new shipyard, the Chesapeake Marine Railway and Dry Dock Company, a Black-owned & operated cooperative that employed 300 black workers, & some white tradesmen, at $3 a day." In 1868 Myers served as president of the Colored Caulker's Trades Union Society of Baltimore. Myers began advocating for inclusion in the National Labor Union (NLU). In 1869, the NLU invited Myers and representatives from other Black labor unions to its national convention in Philadelphia to make their case for inclusion.
"I speak today for the colored men of the whole country … when I tell you that all they ask for themselves is a fair chance; that you shall be no worse off by giving them that chance…The white men of the country have nothing to fear…We desire to have the highest rate of wages that our labor is worth." – Isaac Myers, 1869
Myers pleas were rejected. But, because Black people are skilled at turning lemons into lemonade, Myers and others formed the Colored National Labor Union (CNLU). BLOOP!
In 1872, Frederick Douglass became head of the CNLU, aligning it more with the Republican Party. By 1873, the CNLU was no more but Myers continued his work by establishing the Colored Men's Progressive and Cooperative Union. Myers spent years organizing in the South. He eventually moved back to Baltimore in 1880 where he preserved his legacy as a leader within the Black community. Myers died at the age of 56.
We appreciate the work of Isaac Myers, and those like him, who have helped pave the way and provide power to our collective voices.
Happy Labor Day, fam!